Digital Media and Marketing Team 2014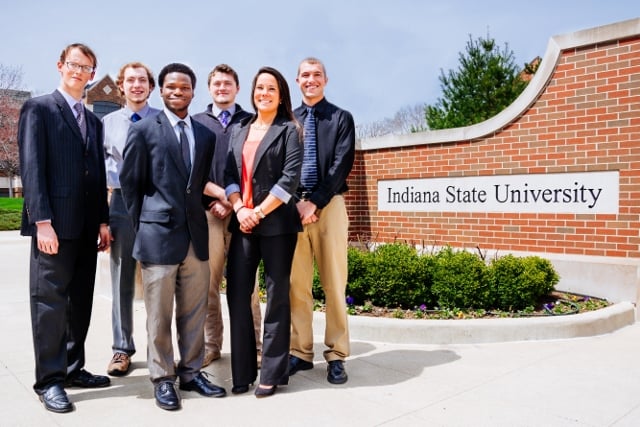 From left: Xavier Saunders, Joel Yoder, Justin Baxtron, Kyle Watkins, Stacy Brownbridge, Cody King.
---
Indiana State graphic designer stars in The Color Purple
Author: Allyssa Bennet

Release: November 17, 2014.

Domonique Wickware-Kelly, a graphic designer for Student Media's digital media team, played the role of the preacher, in the Tony Award winning Broadway hit musical "The Color Purple" Nov. 13–Nov. 16, 2014.

"I know that this is going to be an amazing show," said Wickware-Kelly, before the performance. "We have worked extremely hard for the last few months. The entire musical is being led by some of Indiana State's brightest and talented students. The cast includes many Indiana State's powerhouse singers completely transformed in a historical time period."

The cast worked together for several months for the performance. "The cast has grown so close together," said Wickware-Kelly. "It's going to be sad when its all over and done it." 
---
Staff Bios 
Justin Baxtron

Student Media Multimedia Assistant Director

Graduated from Indiana State University with a Bachelor of Science in information technology, English, and a minor in computer science. Baxtron has experience in: software development, training and leadership development, customer service, administration and web editing. He has made a plethora of academic achievements, including the Dean's List, the Indiana Higher Education award and the MVC Scholar Athlete award.  Baxtron has also been involved in the Student Government Association as a senator, and held the position as web editor for the Indiana Statesman

In addition, he was also a student athlete for the track and field team at Indiana State University. Running as a sprinter, Baxtron's main events were the 60, 100 and 200 meter dashes. He also ran the third leg for the 4x100 meter relay team and occasionally ran in the 4x400 meter relay.  Baxtron was the conference champion in the 200 meter dash, in the Missouri Valley Conference Outdoor season of 2012.

Baxtron is also passionate about humanitarian causes. He is a member of the IBM World Community Grid and a volunteer in Push America to raise disability awareness. Further, he has also volunteered at the Clark Memorial Hospital Medical Center and at Happiness Bag. His hobbies include application development, writing, drawing, reading, running and photography.
Stacy Brownbridge

Graduated from Penn High School in South Bend, Indiana. Stacy is currently a senior at ISU majoring in Marketing with a Medical Sales Certificate. After graduation she hopes to work in the Sports Marketing industry. In her spare time she enjoys spending time with friends and family, shopping, and being active.

 
 

Cody King

Student Media Multimedia Specialist

Cody grew up in Holton, Indiana and graduated from South Ripley High School in 2011. He has worked as an IT assistant/intern for South Ripley Communty Schools as well as Elgin Fastener Group. In 2013/14, he helped with the creation of the ISU Student Media websites. His work now as Multimedia Specialist consists of building, reviewing, and updating the sites. He plans to graduate in December 2014 with a bachelor of science in information technology.
 

Xavier Saunders

Student Media Multimedia Assistant Director

Xavier traveled through several schools, and is now a computer science major at ISU.  He's most interested in computer security and programming competitions in ISU's Student Association of Math and Computer Science, after graduating he will go for his CompTIA certifications and pursue a job in computer forensics.
 

Kyle Watkins

WISU Multimedia Director

Graduated from Mishawaka High School in 2013, and is a communications major at ISU. Kyle interned at WNIT PBS in high school and worked as a freelance videographer. He is currently working as a cameraman for basketball and football games at ISU. As WISU Multimedia Director, he helped in the creation of the ISU Student Media websites and designing graphics for the sites. He is also an active member in Kappa Alpha Order. In the future, Kyle plans to move to California after graduation to fulfill his dream working in the film industry.

 
 

Joel Yoder

Student Media Multimedia Assistant Director

Joel Yoder was born and raised in Evansville, Indiana. He is a graphic design major at ISU and expects to graduation in the fall of 2014. His past experience includes doing interning at Berry Plastics and Zero Echo Media, rebranding an Evansville charity, studying abroad in Florence, Italy and managing the former Indiana Statesman website. His design expertise includes branding, print and layout design and his work has been shown on campus at ISU as well as winning several regional awards, including a silver ADDY. His plans for the future are to join a high-level design or branding agency in the Midwest.